Remote Monitoring Services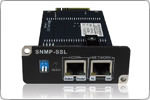 Data Centers are dependent on reliable support hardware.
Gruber Power offers equipment monitoring services.  APC, MGE, Powerware, and Liebert UPS's are eligible for this remote monitoring support.  Gruber Power offers remote monitoring option cards for customers interested in this level service which provides early detection of battery and inverter failure.
In addition, we offer a wide range of Remote Sensing Hardware and monitoring services to keep you in touch, even while you are away. Whether you have a small room, or a large data center, we offer equipment that provides complete monitoring for your facility.
Our equipment is designed to monitor your entire infrastructure, which includes the environment, the physical security, and the network operation. Our monitoring services are 24 x 7 - 365 days per year.
See our remote monitoring product section for equipment details and options:
The conditions you can monitor with our sensing hardware are limited only by your imagination. Our equipment even allows you to control your devices remotely.
Gruber Power Services offers state-of-the-art Remote Sensing Hardware to monitor:
Battery System Performance
UPS and Power Equipment Operation
Environment - Temperature, Humidity, etc
Smoke - Sound Level - Water or leaks
Intrusion and door access - Motion
Voltage and Current Consumption
Custom monitoring is available and our technical staff can assist in designing a fail-safe program for your critical applications.
We never sleep - 24 hours a day - 7 days a week
365 days a year.
Phoenix, AZ Metropolitan Area
Monday - Friday (7AM to 5PM) MST
602.863.2655
Toll Free - Monday - Friday (7AM to 5PM) MST
800.658.5883
(Toll Free - After Hours)
888.404.6997
If we are unable to resolve your issues on the telephone, we will dispatch
a Field Engineer from a service location near you.